アクセス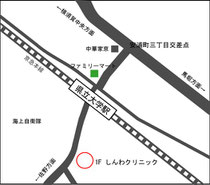 県立大学より徒歩5分
近くに駐車場などはございません。
県立大学駅をおりたら右にまがります。左斜め前にファミリーマートがみえるのでまた右に坂を上がってきた左側になりますそこの右側の階段からあがって頂き、手前の部屋にな2Fになります。
目の前にはかわいいカフェがございます!
わからない場合はお電話下さい。
Taking the train
From Keikyu line take the train in the direction of Uraga (make sure it's the local train, the Express will not past this stop)
Get off at the first stop which will be kenritidaigaku
Go to train exit and make a right .Walk to the end of the street and you will see a Family Mart on your right and a bridge underpass in front of you. Make a right and go under bridge onto a long foot bridge, walk all the way to the end of the foot bridge.
When exiting the bridge walk up the street to the corner and make the first left at corner. Salon is on the left, right at the corner. Go up the stairs and knock on the door (the bell does not work)
Driving Directions
Go out the Wobble gate, make the first right and the first left onto Blue Street.
Follow Blue Street to the end and make a right.
You will pass Mores City. Pass 9 traffic lights and make a left. You will see a Gas Station on your right when you turn.
Follow the road all the way down until you see a walk way on your left.
Turn right and park in front of the cones, you will also see a community billboard in front you. Make sure you do not block the entrances.
Moon Salon is gray building on the corner, go up stairs, Blue Moon is on the second floor.
Knock on the door, the bell is broken.
Directions are available on our website at http://www.beauty-salon-moon.org